Art Imitates Life: Meet James Kerr
---
14 November 2017
It takes many hands to bring Quality of Life services to millions of consumers a day. One set of these talented hands belong to Senior HSE Specialist and artist, James Kerr.
Prior to joining Sodexo, James graduated with a Degree in Fine Arts and has continued to develop his creativity and inspiration for creating art while in his current role. Over the past 6 years working with Sodexo, James has had the opportunity to travel to more than 15 mine sites across Australia and take trips overseas during his RnR. Inspired by his surroundings, much of his work depicts the desolate but beautiful remote landscapes through colourful and expressive paintings.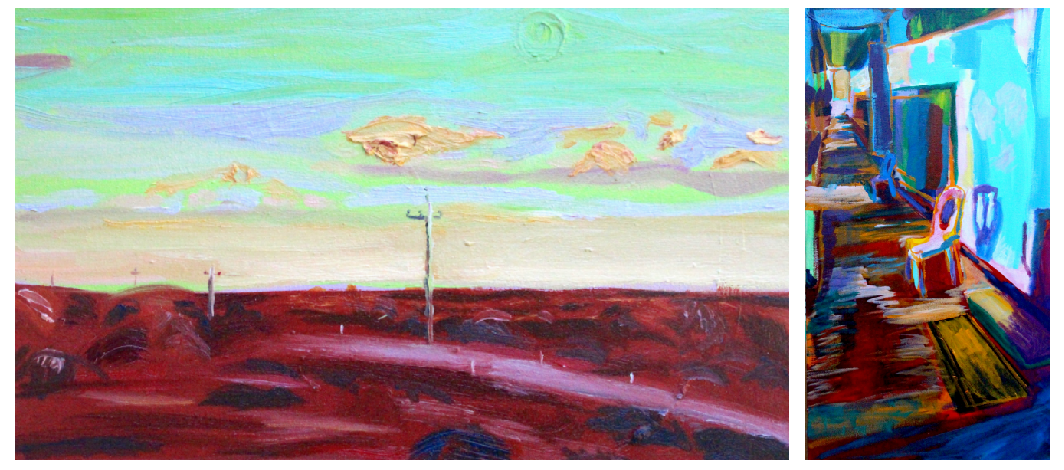 left: 'Red Earth' oil on canvas, right: 'A Donga's Life' (Pilbara) oil on canvas
James' work gives insight into the Australian FIFO lifestyle and playfully invites the audience to take a glimpse into daily life on site, reflecting on the boundary between the environment and human interaction.
When asked how his work life influences his artistic side and vice versa, James explains:
"As an HSE Specialist, my art influence allows me to see different perspectives on individual approaches and harness people's strengths. There is a lot of variety in my role, which makes every day different and refreshing. I enjoy the challenge of engaging people in the workforce and finding the right approach such as kinaesthetic teaching methods which can make all the difference in getting the message across. The interaction with clients and managers has built up my communication skills enabling me to describe my practice to visitors and customers and build confidence to trust my words at times.
I have been well supported and mentored by personnel within the company. Various training opportunities and studying health and safety has enabled me to think critically about my art practice, and the presentation of my work, especially via artist statements and the importance of writing in a clear and concise manner. [My role in] health and safety also helped me to analyse the presentation of my art, and how my work may appear to others."
In his latest art exhibition, James collaborates with sculptor Elliot Bruce in a show called 'Playing with Light'. You can see it from 10th to 26th November at the Moores Building Contemporary Art Gallery, 46 Henry Street, Fremantle.
See more at http://www.jameskerrart.com/