Tablet devices and eLearning are gaining momentum
---
Over 1250 employees now have access to eLearning on tablet devices at sites across all States and segments. In October and November, a number of Qld Remote Sites and NSW sites will also gain tablet devices for eLearning, making training more interactive, interesting and effective!
Above you will see Operations Manager for Qld Seniors Segment Bob Clarke training Raffin Site Manager Jane.
If you normally use a smart phone or iPhone already, using a tablet device to complete interactive and dynamic eLearning modules will be a welcome and easy change for you, especially over written workbooks!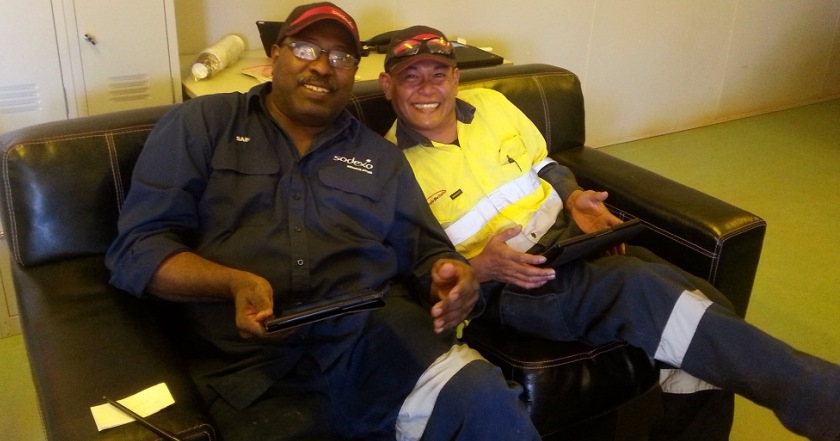 Pictured is Saif and Sonny from Brockman 2 enjoying their first time using a tablet for eLearning.
If you don't use these kinds of technology much (or at all) – you will receive hands-on training and support to help you gain the skills you need to do eLearning on a tablet devices. This is a great opportunity to gain new skills!
The successful implementation so far is thanks to the fantastic efforts of our Operations Managers and Site Managers, who have taken the project on-board, as well as our L&D Advisors (Bob, Ali, Jess and Shelley), Jeff Burns (IS&T) and Gayle Fearnett-Smith's (Talent and Performance Advisor) eLearning administrators, and Project Manager, Terrena Hooper.
If you have any questions on using tablet devices for eLearning, please contact Terrena or your local L&D Advisor. terrena.hooper@sodexo.com M: (0) 409 471 708