World Mental Health Day Tea and Talk at Wickham
---
13 October 2017
Mental health problems can affect anyone on any day of the year. Observing World Mental Health Day provides an important opportunity for us all to show our support for better mental health, especially with this year's theme of 'mental health in the workplace'.
The Wickham Operations and BM teams paused at 10am on the 10th day of the 10th month to celebrate the 25th Anniversary of World Mental Health Day and also Mental Health Awareness Week during morning tea. Sodexo Wellness Advisor Matthew Cordery gave an informative and interactive presentation, sharing some practical tips to help manage stress in the workplace, especially when working in remote isolated areas.
With the impact of Mental Health becoming increasingly prevalent, it is becoming more and more important to have frank and honest discussions about depression and anxiety with our peers.
"While sometimes discussions such as these can be difficult to initiate, especially with colleagues, the importance cannot be overlooked, a sentiment with which the entire team agreed upon. Big thanks to the entire team for their attention and interaction on the day." – Matthew Cordery, Wickham Wellness Advisor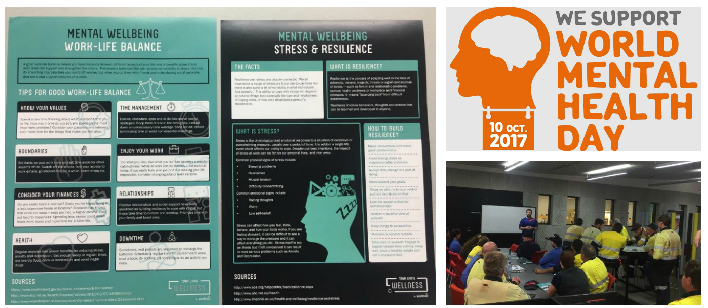 Sodexo's I Hear You initiative aims to encourage an open dialogue in the workplace, provide pathways for support, and to reduce the stigma often associated with mental illness.