Sodexo On Country at Camp Kurlungka
---
22 May 2017
In partnership with IBN, Nintirri Centre and sponsored in part by Sodexo, Camp Kurlungka was held in conjunction with the fourth annual Karijini Experience on April 15-22. This was the second year of Camp Kurlungka themed 'Our Languages Matter. As an on-country camp for IBN kids, Camp Kurlungka gives kids an opportunity to connect with Country, engage in cultural activities while interacting with their Elders.
The camp program includes engaging in music, sport, and the culinary arts to build upon traditional and cultural understanding. This year's highlights included bush-tucker cooking classes with Indigenous celebrity chef Mark Olive, a performance and meeting with the West Australian Symphony Orchestra, and learning about bush management and the Indigenous Ranger program. Kids took part in traditional craft workshops including a weaving workshop where kids dressed up camp leaders in their high-fashion creations made out of recycled plastic bags. Other camp activities included tool and weapon making, spear and boomerang throwing, learning about the stars in the Pilbara night sky from an Aboriginal perspective and connecting to Country through bush walks and yarning with Elders.
Sodexo provided all meals, supplies, and catering for all camp participants and guests over the duration of the camp. Special thanks goes to the chefs and team on site as well as Shane Byrne and his team for supporting this important cultural exchange.
"The planning and execution that went into delivering the camp was immense. Leaders, from IBN staff and volunteers and supporting partners did an amazing job in helping deliver his camp and support these wonderful kids 24 hours a day. They went above and beyond their jobs. We would like to say thank you Sodexo for your support with providing the food, and being on time, reliable and your ongoing communications, which I found very helpful with my organisation of this wonderful camp Kurlungka 2017, I also must say nothing went to waste and the food was VERY nice.
I would also like to personally thank Anthony the driver, nothing was too difficult for him and he was very willing to accommodate or change times if requested. – Kim McCall, IBN Team Leader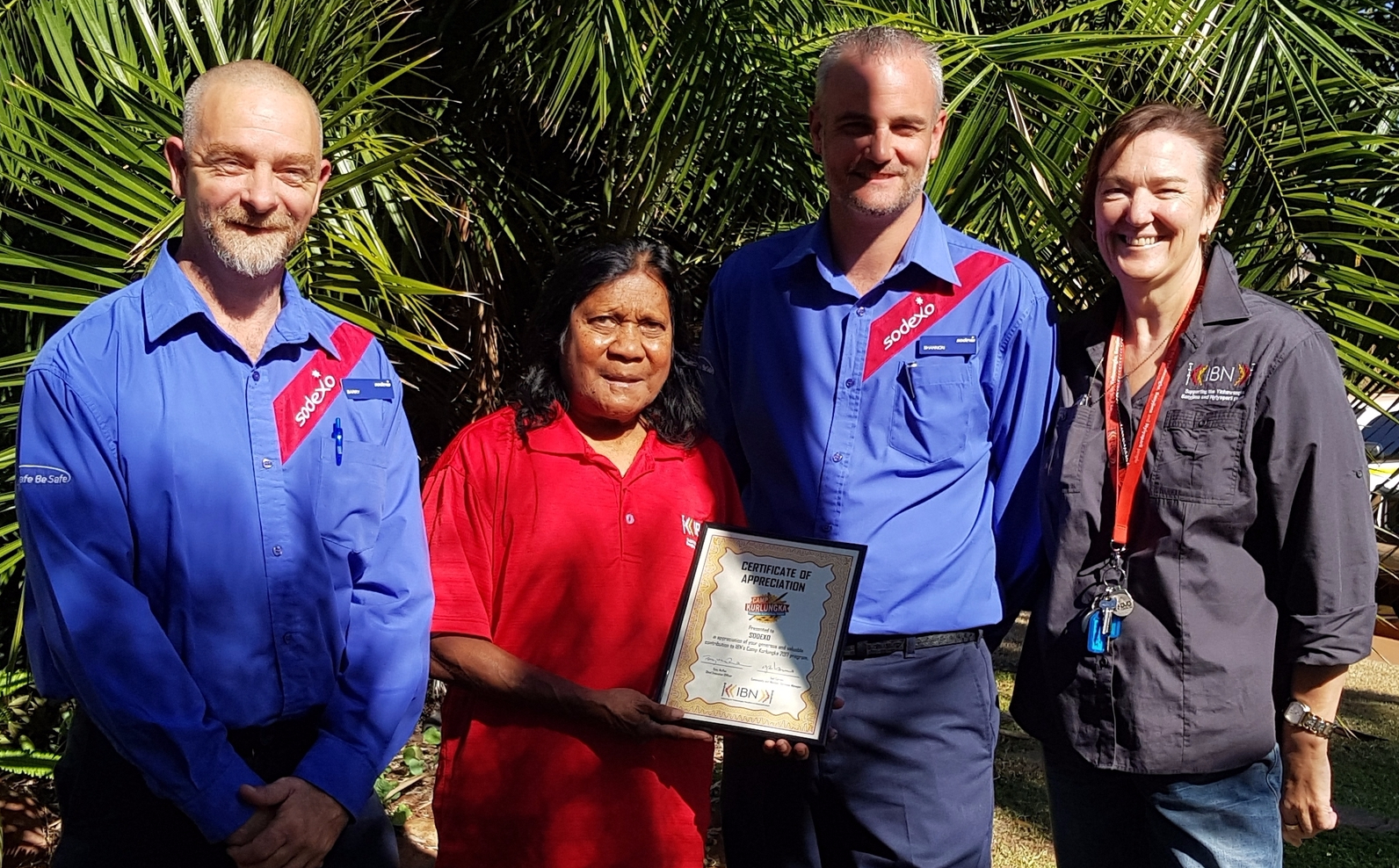 Pictured above: Shannon McDonald and Barry Tonkin of Windawarri Lodge receiving the Certificate of Appreciation for Sodexo's support for the Kids Camp at Karajini in Tom Price.
About IBN
The IBN Charitable Foundation is made of three traditional Owner groups in the Pilbara. Yinhawanga, Banyjima and Nyiyaparli People. Sodexo's Indigenous team has partnered with IBN to support its efforts in local community projects and programs such as the camp.