Unilever Food Solutions (UFS) and Rational deliver Masterclass for Sodexo chefs
---
On 1 February 2018, two of our Key Global Suppliers, Unilever Food Solutions (UFS) and Rational joined forces to host our Sodexo Food Platform Team & Executive Chefs to a Masterclass held at the Comcater Showroom, WA
UFS partnered with Meat & Livestock Australia took the group through a demonstration of butchery and the use of various cuts in various menu items featuring UFS products and ingredients. On the menu was delicious Tandoori roast lamb with fragrant herb and raisin rice, Lamb Korma pita, Yellow Curry with beef, potato and peanuts, Lemon Curry chicken, and the Classic New York Reuben.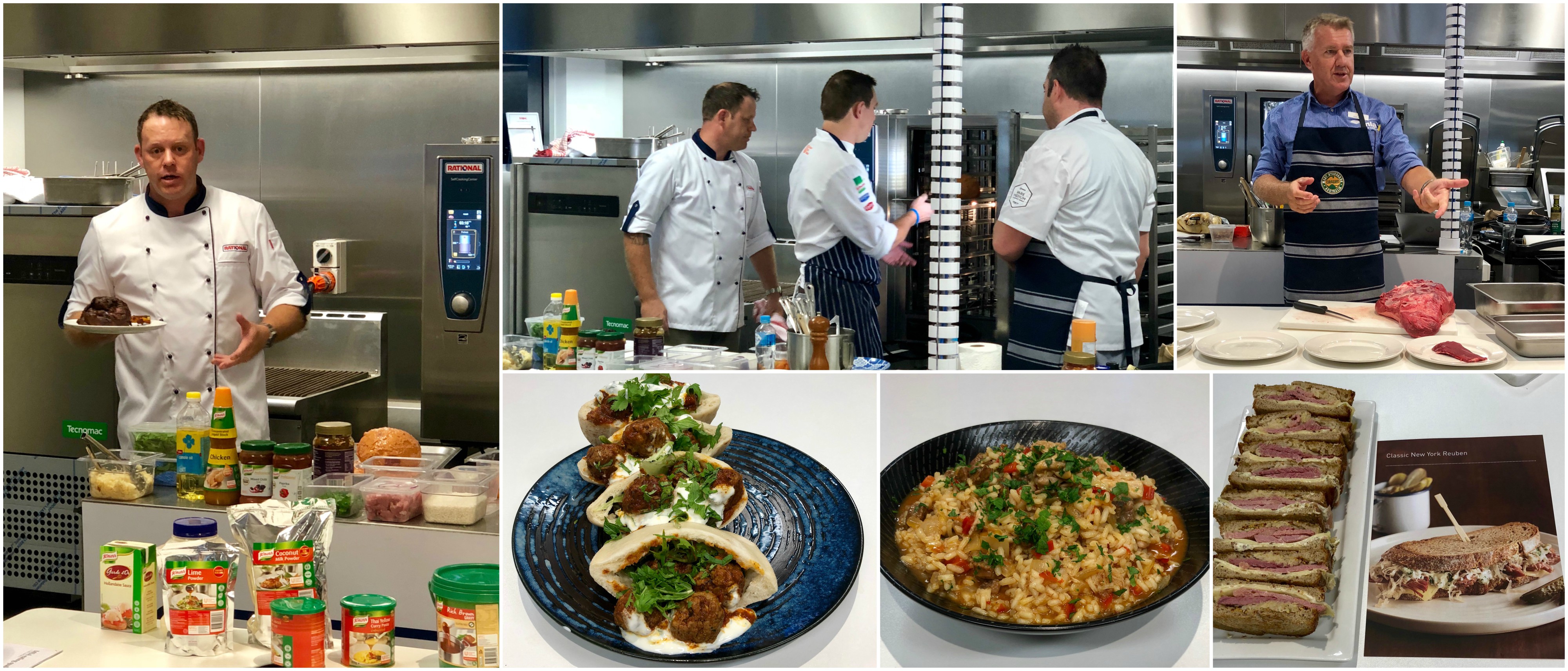 pictured: Executive Chefs Mac, Andrew and Sam from Rational, UFS, and MLA respectively.
The Masterclass session was a forum to exchange ideas, insights and inspiration for our chefs and food development experts. The aim of the session was to provide our teams with innovative food ideas with a commercial focus to use in future menu planning and retail promotions across the Australian business. During the session, food experts were able to spend valuable time together to learn more about different cooking and butchery techniques and develop their existing culinary skills. The class was well-received and followed by lunch and a Q&A session with the teams. Next steps for the Food Platform will be supporting promotion and recipe development for roll out across the Sodexo business.
"…a big thank you to Jen and Sam and their teams for the awesome Master Class today, it was very well received by the Food Platform team we all now have a greater understanding of the Unilever product range and its diversity and different cuts of meats." – Amanda Pickering, Head of Food Platform Command Centre Australia, On-site Service Solutions
With a focus on collaboration with supplier partners, Sodexo involves stakeholders along the supply chain to make decisions to improve the taste, healthiness, nutrition and cost effectiveness of products to meet the specialised needs of our clients and customers across a range of food services.
"This forum shows the true value of our partnerships with key suppliers in developing innovative food solutions for our clients in all segments." – Colin Roberts, Sodexo Sourcing Manager – Food & Beverage
Sodexo has a strong Global relationship with Unilever (UFS). Globally, food science and nutrition experts at Unilever Food Solutions share and work side by side with Sodexo chefs to develop new recipes and menu offers for consumers, including for employees in its own canteens – Unilever is not only a major supplier, it is also a major client of Sodexo.
Thanks to the Supply Management team, Food Platform Team, UFS and Meat & Livestock Australia for organising and hosting an engaging Masterclass.