Sodexo's World's Greatest Shave Super Team 2018
---
Sodexo's World's Greatest Shave Super Team raises an amazing grand total of over $60,000, with funds still rolling in!
Sodexo health & lifestyle wellness teams across mining and oil & gas were once again inventive in how this charity event was run across 30 different locations nationally. Thanks to the generosity and involvement of all our customers and people on site, the 20th Year Anniversary of the Leukemia Foundation World's Greatest Shave was a rousing success.
Some incredible totals were raised; Yandicoogina ($14,500), Hope Downs Village ($11,000), Prelude ($10,500), Amrun Village ($10,000) with Pannawonica & Coastal and the Brockman region all contributing in excess of $5,000 respectively. Morris Division's Fortescue Wellness teams (Karntama, Hamilton and Cloudbreak) bringing in $5,000, ERA's Jabiru and Golden Grove, came in with a combined $250.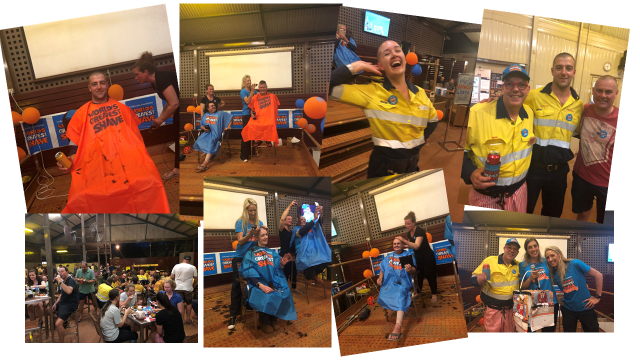 Over 40 individual events were held by the HLC teams during March, ranging from live music, site wide BBQ's, games and team challenges, as well as disco, quiz and bingo nights.
Hope Downs Village and Yandicoogina were lucky enough to have a female resident donate her long locks which contributed greatly to the total funds raised.
Pannawonica combined St. Patrick's Day with their shave off event with a community live music entertainment, and Irish themed bingo night.
"It was great to see client key stakeholders particpating with Yandicoogina General Manager, Mine Manager and Mine Production Superintendent all participating. Director of Operations – Martin Baron, Operations Manager Luke Lilburn and the Sodexo Coastal/ Robe Valley team all participated by going for the big shave."
"World's Greatest Shave is a firm favorite of Sodexo and our clients. Through the support and collaboration of our clients and partners, we were able to come together for this worthy cause, improving Quality of Life for those involved and those receiving the vital funds for the Leukaemia Foundation's important work."

"These events are a key component of Sodexo's strategy to creating a healthy environment, forming a real community with a sense belonging in our remote villages. We are seeing an industry trend in client's realising the value and benefit of investment in the long-term health and wellness of employees.