Sodexo celebrates partnership and prosperity with Rio Tinto
---
Last week, on 31 October, our IFMS Leadership Team, along with Rio Tinto's Core Services and Pilbara Facilities Operations Teams, attended a dinner at Hope Downs 1 Village to celebrate the recent opening of Baby Hope Mine and our growing partnership with Rio Tinto.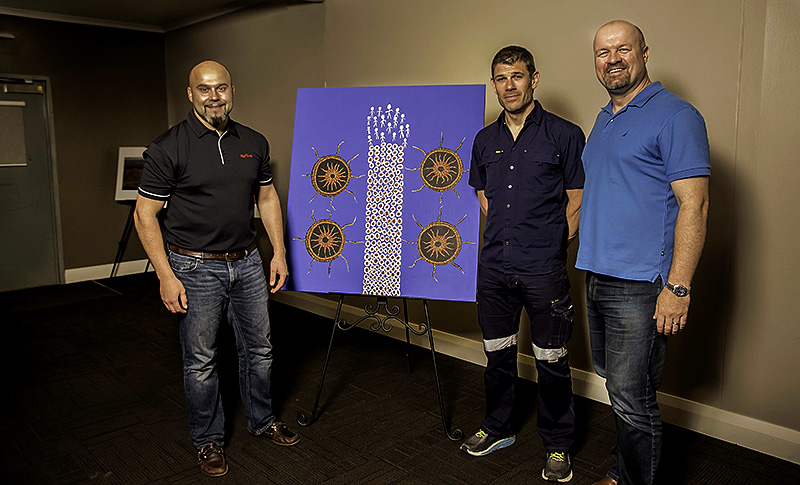 I was privileged to present to Rio Tinto on the evening, a unique piece of Nyiyaparli artwork commissioned by Sodexo and painted by Nyiyaparli Senior Member and Artist, Sue Bung, which represents the three-way partnership between Sodexo, Rio Tinto and the Nyiyaparli People and how we respect the land on which we work.
The painting, which will now be permanently displayed at Hope Downs 1 Village, is our gift to Rio Tinto. Our hope is that the painting will be an enduring reminder for all of us, of the Nyiyaparli people as we travel through and work on these ancient traditional lands.
On the evening we heard from Rio Tinto's Gaby Poirer, General Manager HD1 and HD4, and Craig Janes, Manager Core Services, who greatly appreciated and commended Sodexo's symbolic gesture and hospitality.
Darren Hedley, IFMS Director, comments:
"Sodexo and Rio Tinto have grown in strength and unity as we have welcomed new people, new locations and new opportunities into the IFMS scope. As we look to the future with a renewed focus and collaborative energy, I am confident we will have many successes to share in the years to come.

I wish to especially thank our hardworking Sodexo team at Hope Downs 1 Village for their first class service and for making us feel very welcome throughout our site visit."