School based Traineeship Program – Weipa
---
In February, selected year 11 students from Western Cape College Weipa QLD will be commencing their employment-training journeys with Sodexo. The program has been carefully designed to incorporate meaningful, blended work-training experiences in the Hospitality, Business Administration and Horticulture areas at Sodexo-managed Rio Tinto Aluminium Evans Landing Village and Weipa Depot facilities. Opportunities were made available to year 10 students in term 4 2016, with those interested and committed progressing through to the interview selection process. Sodexo were particularly impressed with the calibre of applications received, and were proud to offer positions to 5 students.
Successful students will soon commence their paid work placements with our operational teams one day per week, whilst steadily working through the theoretical training components within the school, in partnership with Tafe Queensland North. On completion of the 2 year program, students achieve a nationally accredited Certificate II qualification, in additional to valuable workplace experience with one the world's most admired, innovative global companies. As with all school based traineeship programs, each student receives tailored support throughout their training contract and host placement, by Sodexo's preferred Apprenticeship support provider MEGT.
Site orientation was conducted February 02nd providing the students and their families a welcoming opportunity to meet the team, whilst familiarising with the working environment. Welcome to country and attendance by local traditional elders was coordinated by Sodexo's Indigenous Community & Liaison manager Ronnie Bosuen. During the day's events, students and their family members were given a comprehensive tour of the facilities, and the opportunity to meet department supervisors who were eager to share their insights about working on site.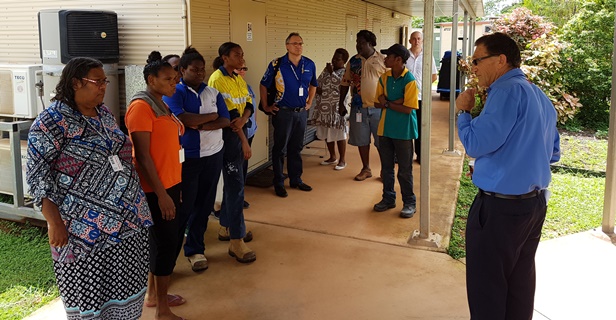 Particular thanks was received from Western Cape College Principal Ashley Spain, who commented on the welcoming and professional leadership of Sodexo managers Carl Anderson and Gregor Karst. As with all school based programs, carefully designed mentoring support is critical to the success of student outcomes, and very much a collaborative effort between the school, apprenticeship support network provider, employer and local community. Sodexo thanks all partners involved in this program for their on-going commitment in this area.
Each student is now busy completing their pre-employment inductions requirements ahead of their first working day on site Monday 27th February. Please join us in welcoming the students to the Sodexo family – we wish them all the very best as they embark on their exciting career pathways with Sodexo!
For more information on Sodexo's school based programs, contact FundingandDevelopmentAust.APAC.AU@Sodexo.com