Sodexo launches Work Experience Pathway Program in the Pilbara
---
Leah Russell-Smith – Wickham operations with Village manager Scott Westbrook, Food & Beverage Manager Garry Williams and catering team members.
This month, Sodexo launched the Work Experience Pathway Program in the Pilbara coastal towns of Karratha and Wickham.   In collaboration with Karratha Senior High school and St. Luke's college's, year 10 students were selected based on personal commitment and chosen field of interest. Students commenced their 2 week placements under the watchful, safe and supportive supervision of Sodexo site operations, gathering meaningful work experience in maintenance/trades areas and hospitality.
Special thank you to the Wickham village management team lead by village manager Scott Westbrook; the Wickham town maintenance team lead by Coastal area manager Clarke Larcombe, and to the Sodexo/Woodside Maintenance team in Karratha with FM Town Services manager Ben Ralph and Craig Moore.  Operational support has been truly outstanding, keeping the students safe, engaged and interested in future Sodexo careers.  While visiting the students 'at work', it was almost difficult to tell them apart from our teams – they were all well and truly part of the Sodexo family after only one week.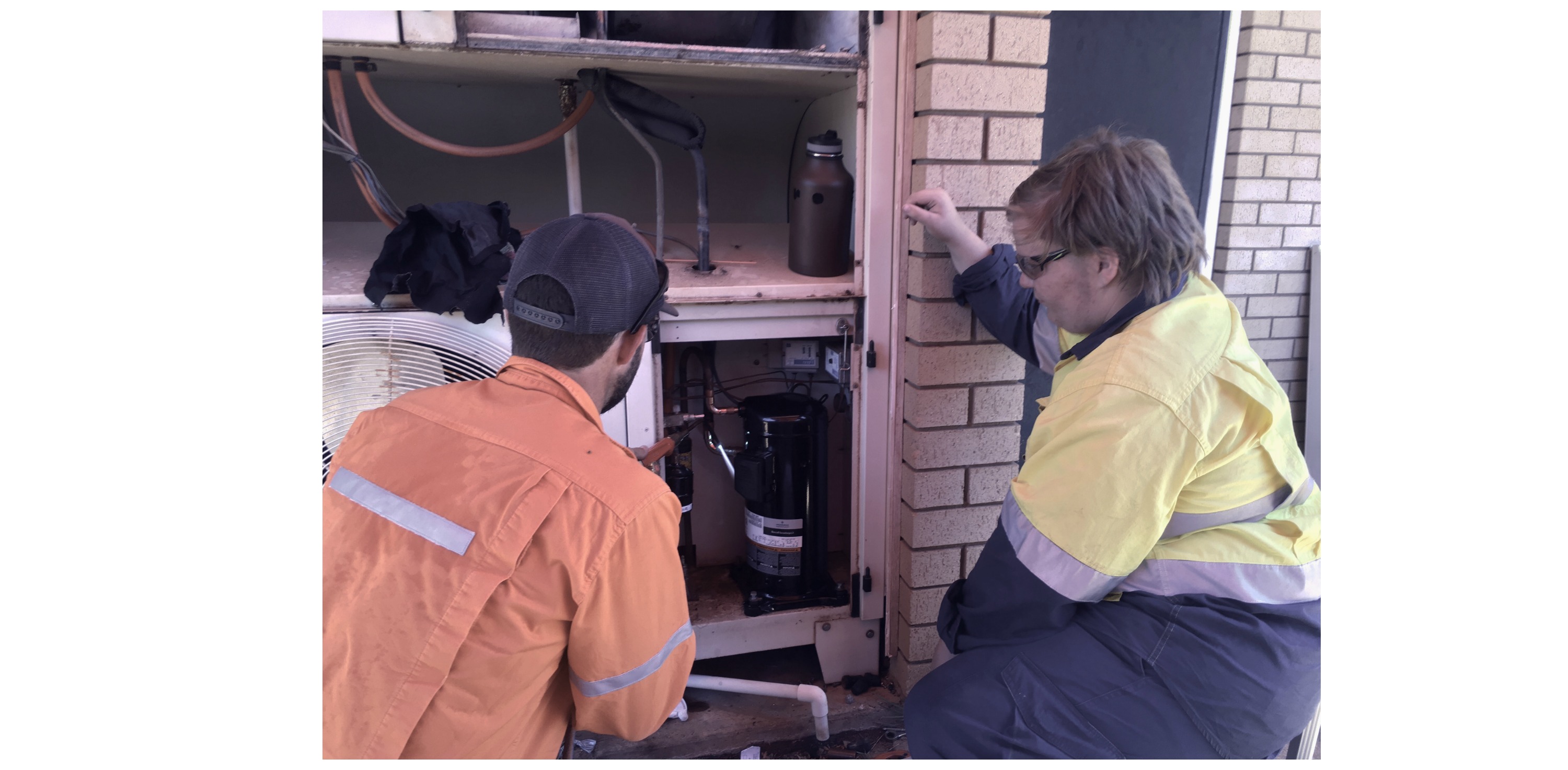 Student Joshua Howard – Sodexo Woodside Maintenance team, with town supervisor Craig Moore
Josh Howard (St. Luke's College Karratha) has been working with the Sodexo Woodside maintenance team, gathering experience across a broad range of trade areas in carpentry, refrigeration, plumbing, and electrotechnology.  Leah Russell-Smith has been working hard with the hospitality team in Wickham, receiving glowing feedback from Food & Beverage Manager Garry Williams.  Leah is very keen to explore part-time work opportunities with Sodexo.  Thomas Knight (St. Luke's College Karratha) is being kept busy with the Wickham maintenance team, gaining valuable experience in village maintenance, assisting with testing & tagging of electrical equipment, and various other tasks.
"I'm really enjoying working with Sodexo.  Everyone has really looked after me, I felt part of the team right from the very first day because they have mentored me through every task.  I'm given lots of interesting work in catering, and lots responsibility which is great.  I just can't wait to work for Sodexo one day!" Leah Russell-Smith (Karratha Senior High school).
Please join us in thanking our Operations teams for their genuine investment in the youth of coastal Pilbara towns.  Both high schools are incredibly impressed with Sodexo's commitment to creating meaningful opportunities for their students.   We hope these students are inspired to learn and grow from their experience, perhaps joining the Sodexo team permanently in the near future!
For further details on Sodexo Work Experience programs, please contact  FundingandDevelopmentAust.APAC@Sodexo.com  9242 0729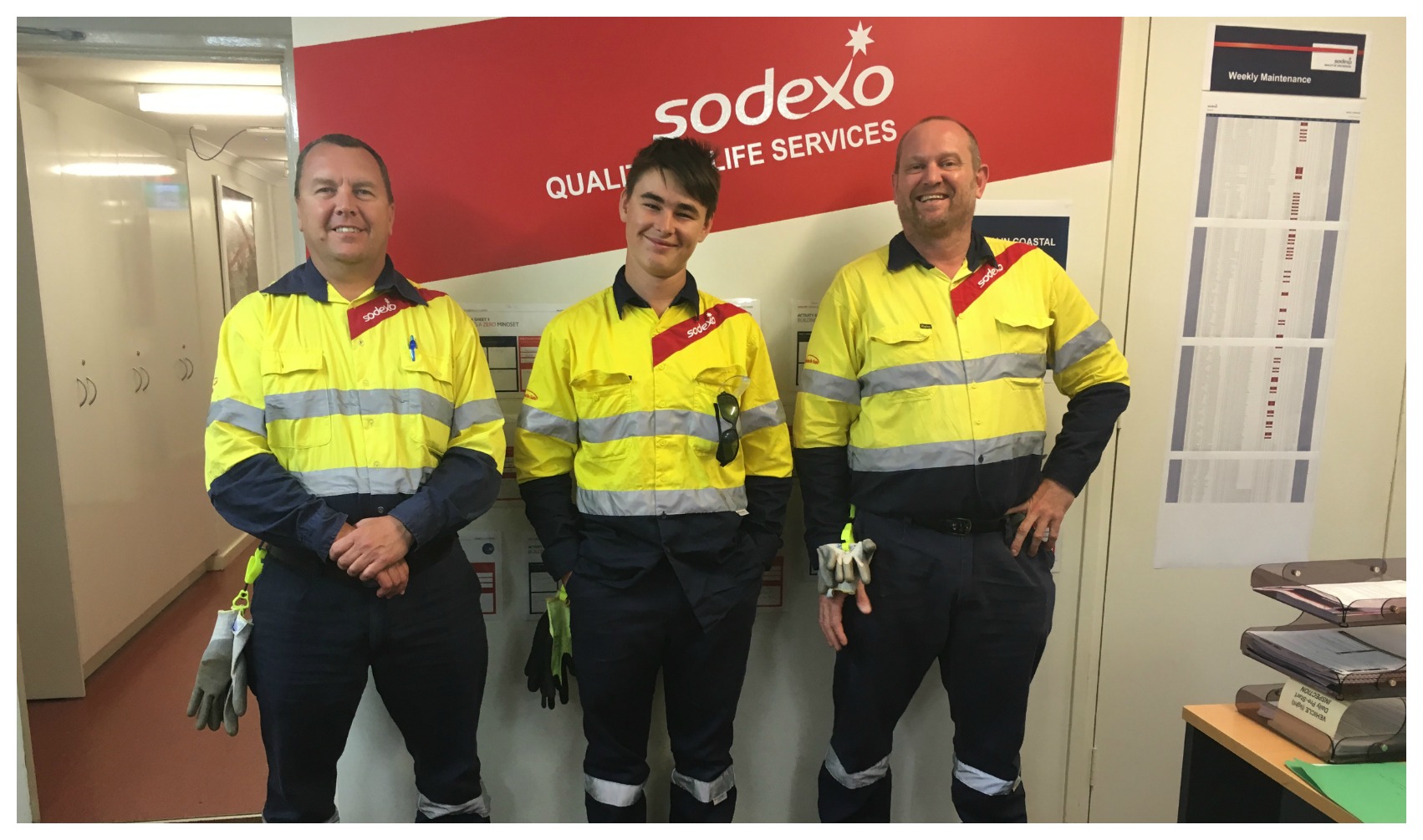 Maintenance team lead by Clark Larcombe. Thomas Knight pictured with Sodexo team members Willem Van Schalkwyk and Mark Barlow.